Golf Cart Rentals
These rentals are operated daily and must be reserved at least 24 hrs. in advance of tour's scheduled time
Reserve Online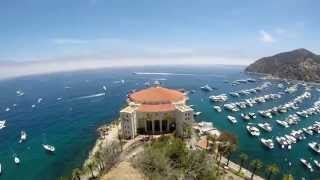 The most popular activity on Catalina Island is renting a golf cart to start is a do-it-yourself golf cart tour of Avalon, which will help you get acquainted with the town, from its cobblestone downtown streets to the hills overlooking town where you'll find panoramic ocean views.  Cruise the City of Avalon in Catalina with your own two hour golf cart rental. This is as close to renting a car that you can get in Avalon, since most people use golf carts as their cars. Our friendly staff will give you all the instructions you need and a map of the area so you can enjoy it all.   Go where you want, stop where you want and enjoy Avalon's beautiful vistas and scenery aboard your own Catalina Island Golf Cart
.
Cars are severely restricted on Catalina Island, so carts are the preferred mode of transportation. Our easy-to-use carts allow you to tour Avalon on your own schedule, with time to stop and capture the moment and the views with your camera. When you get back to town, we'll help you arrange other excursions.
We have both 4 passenger and 6 Passenger carts available
Carts are rented for 2 hours only.  There are no long term rentals available.
4 Passenger Golf Carts Rentals for 2 hours are $90.00
These Golf Carts seat up to 4 people. You should also reserve a child seat (if you need one) at no additional cost, which is required for child travel, (State law requires children under age 6 or less than 60 pounds be in a child car seat). Maximum 1 child seat per cart
A $45.00 Cash deposit is required at check-in for 4 Passenger Golf Cart rentals.  Deposits will be refunded, less prorated charge (based at $45.00 per hour) for use over allotted time. Online rentals are for 2 hrs. Rentals of 1 hr. are on a walk up basis of first come first serve. Reserve Online
6 Passenger Golf Carts Rentals for 2 hours are $130.00
These Golf Carts seat up to 6 people. You should also reserve a child seat (if you need one) at no additional cost, which is required for child travel, (State law requires children under age 6 or less than 60 pounds be in a child car seat). Maximum 1 child seat per cart
A $65.00 Cash deposit is required at check-in for 4 Passenger Golf Cart rentals.  Deposits will be refunded, less prorated charge (based at $65.00 per hour) for use over allotted time. Online rentals are for 2 hrs. Rentals of 1 hr. are on a walk up basis of first come first serve. Reserve Online
Reservations are guaranteed for the times selected. You must check in at the Cartopia Lot on the Corner of Crescent Ave. and Pebbly Beach Road 15 min. prior to reserved time. Carts will not be held after reserved time and will become available in queue with walk-up custom
Online Bookings
Reserving your cart on-line insures you cart will be available for the time you desire. Reservations are paid in full at time of booking.  We will refund your payment in full if you contact us by e-mail at info@catalinaislandgolfcart.com at least 36 hours prior to your reserved rental time or one hour after reservation is made (for reservations made less than 36 hrs. prior to tour time). . All cancellations must be made by e-mail to info@catalinaislandgolfcart.com. Reservations may not be canceled by Phone.  Drivers must be age 25 or over, and covered by their own auto insurance.  A $45.00 Cash deposit is required at check-in for 6 passenger golf cart rental and $45.00 cash deposit is required for 4 passenger golf cart rentals